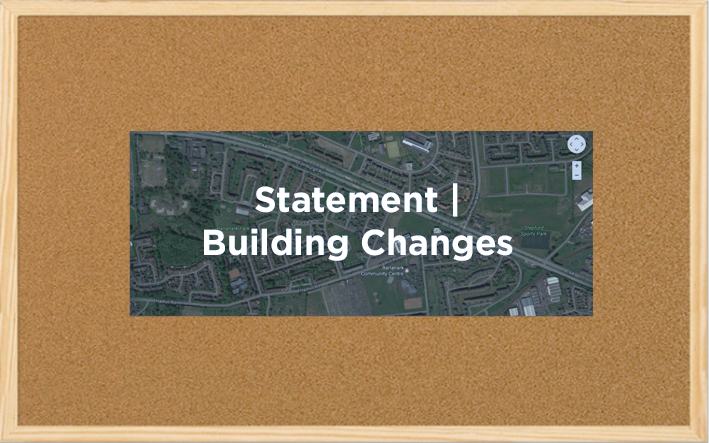 Information re: Building Changes (August 2020)


The Calvay Centre
We wanted to communicate publicly about some recent changes that our church ('Hope Community Church Barlanark') have gone through regarding the premises we use for worship, office and activity space in order to be clear on what this means for us going forward.
Since January 2016 we have paid to rent an office space in The Calvay Centre and have benefitted greatly from its provision. We have also been able to work collaboratively with Calvay Housing Association (who run the centre) on a number of community projects during this time. Since January 2018 we have paid to gather for our church services on Sunday mornings in The Calvay Centre and this has enabled us to engage with and serve many of the members of the local community.
Unfortunately, on the 16th July 2020, we were delivered written communication from TC Young Solicitors that Calvay Housing Association were terminating their agreement with us by serving notice with immediate effect and therefore ending our ability to use the office granted to us or any other community spaces in the building. Although we have tried to ascertain why they have decided to do this at this time, we have been unable to gain any further clarity. We are therefore in the process of emptying our space in order to comply with the legal notice.
We are devastated with this development. The Calvay Centre has been such a good base for us and we want to thank all of the staff and volunteers there who have made that possible. We also hope it has enabled us to serve the community in ways that will be missed by those in the immediate area. We are disappointed that this has come out of the blue, at a time when we are already struggling with the impact Covid-19 is having on both our church and our community activities. But, as people who trust that Jesus is Lord over all the earth, we know that he is in control and we trust him to direct us as we seek to move forward together as his people.


Hope Hall, Baillieston
Within a few days of receiving legal notice of our termination with The Calvay Centre, confirmation was given from the trustees of Hope Hall, Baillieston that we have been granted use of their building. We have been in discussions with the trustees since the start of the year to see if we could develop a partnership that would enable us to use the building for ministry going forward. With that now a possibility we want to be clear about our plans.
We see Hope Hall:
1) As a LONG-TERM base to PLANT in
Right from the start of the life of our church it has been our prayer that the Lord would enable us to train others to start churches like ours in other communities like ours around the west of Scotland. To this end we are really excited to start working towards planting a NEW CHURCH in Hope Hall that will continue the great heritage of gospel work the previous church has built up. In time we hope to start recruiting a church planter and team that will train with us in Barlanark and work towards planting a church in Baillieston using Hope Hall as a base to reach the area surrounding it.
2) As a TEMPORARY place to GATHER in
We as a church (Hope Community Church Barlanark) have not been able to gather together since Mid-March, and it has been a hard time. Losing our base in the scheme just as restrictions were being lifted to allow us to gather again was an even harder blow. But we are thrilled that the Lord has provided us with the use of Hope Hall in Baillieston at this time. We hope to gather there (as Hope Community Church Barlanark) on Sunday mornings to worship together until we find a place where we can do so in our own community.
We want to be clear that we are NOT MOVING as a church. Our home is Barlanark, the majority of our members live in Barlanark and Barlanark is where we want to be. In the short term we are looking into how we can help transport people to Baillieston whilst we are having to meet there, but we hope to find a suitable place to meeting in Barlanark at the EARLIEST opportunity. We are hopeful that this will be weeks, and not months, if restrictions due to Covid-19 continue to be eased. We will also NOT be moving ACTIVITIES to Baillieston (such as toddlers, after school clubs etc.) as we do not believe that would help us serve the community of Barlanark effectively.
As a church we have always believed that the church is not the building we worship in but the defined group of Christians who have committed to 'Know Jesus' and 'Make Jesus Known in Barlanark and beyond' together. Our commitment is still to live in, reach out to and serve the local community. In the last year we have run events in several places in the community such as The Calvay Centre, Barlanark Community Centre, McGuire's Pub and Sandaig Park, along with a number of gatherings in the houses and gardens of our members. We hope that we will be able to keep doing this going forward. To this end if anybody knows of any locations in Barlanark that we may be able to meet in for Sunday mornings then please do get in touch and if you are a Christian please join us by praying that the Lord will quickly provide a new space for us to meet in, particularly on Sunday mornings, in our own community.


The Future
So going forward we are excited to see how the work in Baillieston may develop. In the coming months we will start to develop plans for what a new church might look like and we will start the process of trying to find the right people to come and plant this new church.
We are also excited to see what the Lord will do for us in Barlanark. We know he can do far more than we could even think or ask and so we are praying the right building or space will become available soon.


If you have any questions about any of this then please send them to info@hopebarlanark.com.
And to find out more about who we are and what we do check out: www.hopebarlanark.com.



Signed,
The Pastors of Hope Community Church Barlanark